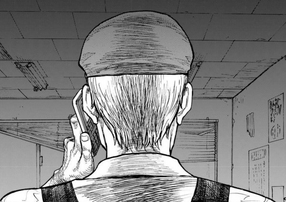 The Man Trap is the 35th chapter Ajin: Demi-Human, created by Gamon Sakurai.
The chapter begins with forge security staff being questioned by the police. The forge security staff confirms with the police that the Ajin have been apprehended and that the security shutters will soon be opened. They also informs the police that the rest of the employees will continue working as usual.

Kei and Nakano are currently hiding in the mechanical room. Nakano is impressed with how successful Kei's plan was but Kei tells him that it was only because Sato wasn't there. Kei thinks back to his conversation with Tosaki when he instructs Tosaki to delay the plan slightly so he can reveal himself to Okuyama in order to drag Sato to the fight. Kei tells Tosaki that Sato was currently bored and they needed to inform him that something fun was happening in the forge security building.

Tosaki opens the security shutters so that the police can be used as replacements for the guards that died. Kei tells Nakano that they will be using the same strategy that they used before but he has no idea what Sato's plan to invade the building could be.

Meanwhile Sato learns of Kei's interference and begins setting up his plan.
Ad blocker interference detected!
Wikia is a free-to-use site that makes money from advertising. We have a modified experience for viewers using ad blockers

Wikia is not accessible if you've made further modifications. Remove the custom ad blocker rule(s) and the page will load as expected.