The Special Assault Team (特殊急襲部隊, Tokushu Kyūshū Butai), or SAT for short, is counter terrorism unit of the Japanese police. Satou dubbed them as the "strongest unit in Japan".
Overview
Edit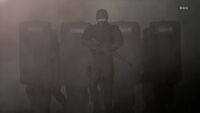 Right after Satou destroys the Grant Pharmaceudical building, the SAT appears and tries to stop him. Instead of using the anaesthetic bullets, the SAT decides to prevent him from resetting/regenerating, perpetually killing him. However, the plan ended up in failure as Satou was assisted by his comrades.
Ad blocker interference detected!
Wikia is a free-to-use site that makes money from advertising. We have a modified experience for viewers using ad blockers

Wikia is not accessible if you've made further modifications. Remove the custom ad blocker rule(s) and the page will load as expected.